Paul & Kattia Jones and daughter Tabitha
Missionaries in Bolivia
Paul and Kattia visited FSCC in December of 2013. Their testimonies were very powerful and their love for God is quite evident. Through their work, we find that many Bolivians are turning to Christ. Paul is from Texas and Kattia is from Costa Rica.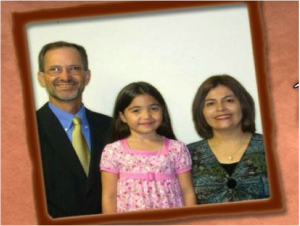 Missions Focus
Serving alongside the national church through biblical and ministerial training of lay church leaders.
Itinerant preaching and evangelism at weekend camp meetings, known as juntas that take place on the date of the churches' anniversaries.
Kattia: Working with the women's groups, teaching conferences both locally and nationally. Supporting the youth in youth camps and conferences, and also ministering to children through puppets and other visual aids. Also being led to reinforce strengthening of the family unit.
Catch up on their biography and mission activities in their latest newsletter on the Church of God Missionaries website.